January 13, 2022
PROJECT SPOTLIGHT: The Phoebe Griffin Noyes Library
In 1897, the Phoebe Griffin Noyes Library was established as a free public library in Old Lyme. The library was built and dedicated to honor the memory of Phoebe Griffin Noyes. Born in 1797, Phoebe loved children and was passionate about arts and education. Upon returning from her studies in New York, she founded her own school in town where she taught painting, drawing, and other basic subjects. Her home was a place for social gatherings, and she was known to enjoy dancing and playing cards. Phoebe's portrait hangs in the Reading Room of the library to honor her passion for teaching and the influence she had on shaping the Lyme community. To read more about Phoebe, visit the library's website.
The library was designed in the Colonial Revival style with Palladian windows and a colonnaded front portico. The 2020 interior renovation focused on maintaining the architectural integrity of the original while addressing necessary maintenance needs, better allocation of space, and improving lighting. A patio and garden were also added to create an outdoor space for patrons to gather, read and enjoy.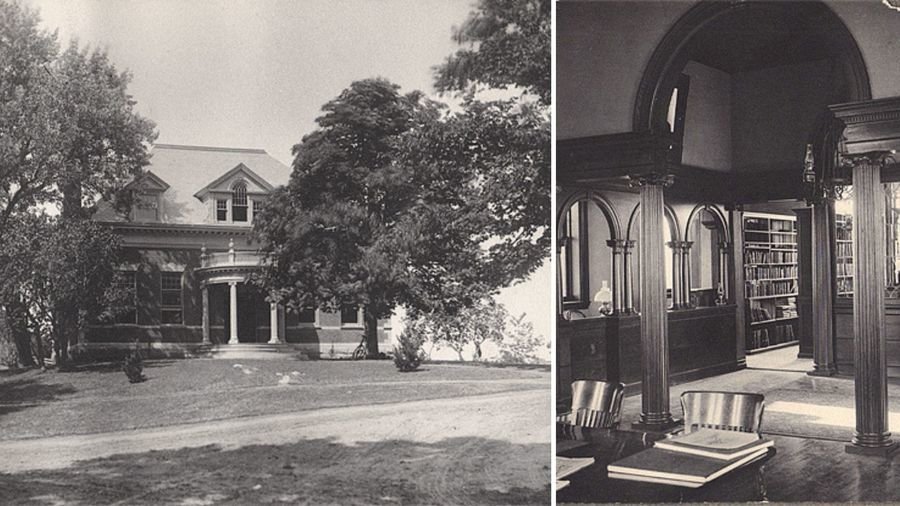 Historic images courtesy of Old Lyme Historical Society and Phoebe Griffin Noyes Library.