September 30, 2018
TSKP STUDIO Designs City Library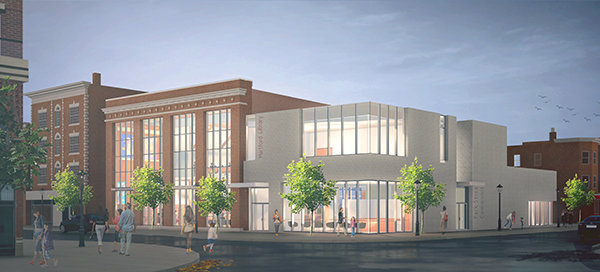 Hartford Public Library Director, Bridget Quinn-Carey has embraced TSKP STUDIO'S design for the long awaited Park Street Branch. The two-story building roughly 12,000 SF offers adult and children's library functions, community spaces, and a protected outdoor courtyard. The new branch will become the largest HPL branch in the City of Hartford, providing much needed community resources to an already vibrant retail and residential neighborhood.
Consistent with the firm's interest in the sustainability of timber, the main library, and community room portion will be built using exposed wood timber construction, which will result in a warm and inviting atmosphere for these public areas. The exterior of the project is composed of two pieces: a lightly colored cast stone box serving as the entry volume with welcoming and revealing 'cut-outs', alongside a traditional brick façade with soaring windows. Defining the exterior into these two components reflects the architectural variety of the urban neighborhood.
Originally an addition and renovation to the former Lyric Theatre dating from the early 20th century, the TSKP STUDIO initially sought to restore its existing façade facing Park Street. While the facade appeared to be in average condition for its age the remainder of the exterior walls and structure were in poor condition. Several months of investigations and discussions with state historic officials concluded that the façade would consume far too much of the reduced budget, compromising the overall goals of the project. However, elements of the original building will be salvaged or recreated, and large photo murals of the original façade will be mounted within the new reading room.