September 23, 2020
FEATURED: Libraries | The Heart and Soul of Downtown
Now more than ever, libraries provide a resource for educated citizens and a forum for enlightenment, education, and community building. In addition to the traditional role as a collection of books, their resources, and programs also offer something for patrons of every age:
-          Children's programs
-          Teen after-school (study, gaming, projects)
-          Adult education (EFL language training, Digital Literacy, cultural events)
-          Co-working space
-          New immigrant Support Services
-          Local History archives
In many ways, libraries serve as a Community Center; as such, they help draw visitors to the City center, whether by walking or driving. This can form a symbiotic relationship with other downtown businesses in the immediate area.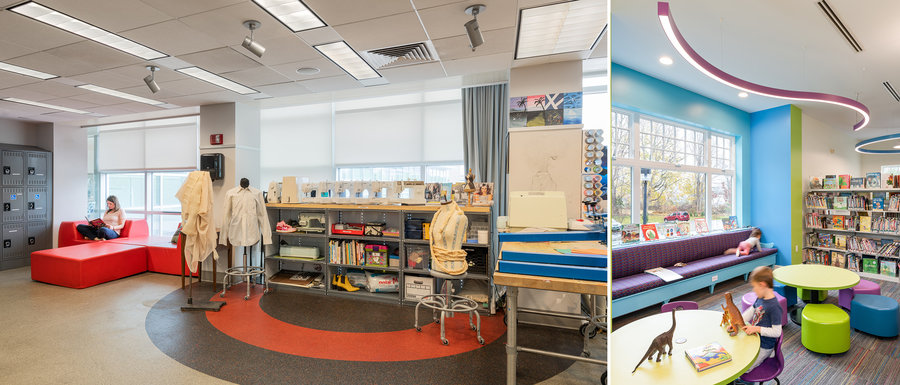 Covid / Pandemic Impact
Of course, everything changed in March when libraries were forced to close completely during the height of the pandemic lockdown that extended through the Spring of 2020. Nevertheless, many libraries maintained their vital Wifi service during the lockdown. It was interesting to note how, once we could leave our homes, this drew computer users from the community like moths to a flame. Many reported patrons sitting outside their closed libraries in cars or socially distant outdoor settings using laptops to access the web. Of course, this didn't help those patrons who lacked portable computers and relied on the computer stations available in the library – a vital library service.
Everyone needs help with being homebound. Children require supervision and educational opportunities. Older children may try to continue high school or college programs with remote learning. In many cases, both parents may also try to continue working remotely from home. This has increased strains on quiet workspaces in the house, internet, and Wifi capacity.
 As the lockdown gradually loosens, the community has been eager to partake in available library services even with new regulations on social distancing in place.
-          Child-oriented activities are in demand, even as social distancing requirements significantly reduce capacities.
-          Many college students have chosen to attend their school remotely this semester rather than risk exposure on campus. This has increased the pressure on families to find quiet spaces for adult workers, students, and children in their homes. The Library can provide this safety valve.
This is particularly true when both parents are trying to work from home simultaneously.
-          While good weather lasts, the outdoor spaces at libraries (courtyards, gardens, etc.) provide an excellent opportunity to work outdoors with ample natural ventilation while benefiting from the available internet access.
Where do we go from here?
Once we reach the other end of this pandemic, some practices introduced during the lockdown will likely continue permanently. Many businesses and workers recognize that 'Work from Home' (WFH) can save on costs, traffic congestion, and travel time while providing flexibility for employees and their families. More data is needed, but anecdotal evidence suggests that in many cases, productivity has not suffered and has sometimes increased. It is likely that, where possible, this flexible approach to work will become the norm. So, while the need for commercial office space may decline in the near term, demand for alternatives at home and in the community will increase.
Everyone has become more comfortable with virtual meeting software (GoToMeeting, Zoom, etc.). This will likely lead to fewer in-person or more 'hybrid' meetings combining in-person and remote participants. While this trend may impact the need for meeting space, it will undoubtedly lead to increased technology for these virtual meetings.
Maker space has become a popular initiative at many libraries, whether oriented to teens or for all ages. It provides space, equipment, and support to work on special projects. The equipment could include computer graphics, 3D Printing, video and sound recording, sewing and clothing design, jewelry design, etc.
Libraries are also seeing the impact of a growing Sharing Culture. This can be reflected in a 'Library of Things' that patrons don't need to purchase for limited use but can borrow from the library as needed. These might include tools, sewing machines, cameras, and all rarely used items.
As a cultural center for the community, Libraries can offer a broad spectrum of events showcasing Art, Music, Literature, Public Affairs, and History that is accessible to all. Again, while multi-purpose meeting spaces may accommodate fewer occupants, technology can provide a much larger virtual audience.
In summary, the Library is evolving, but it is and will continue to be a vital piece of the Downtown puzzle, drawing all ages of the community to the heart of the community.