October 31, 2023
AWARDS: Randall Luther Named AGC CT Designer of the Year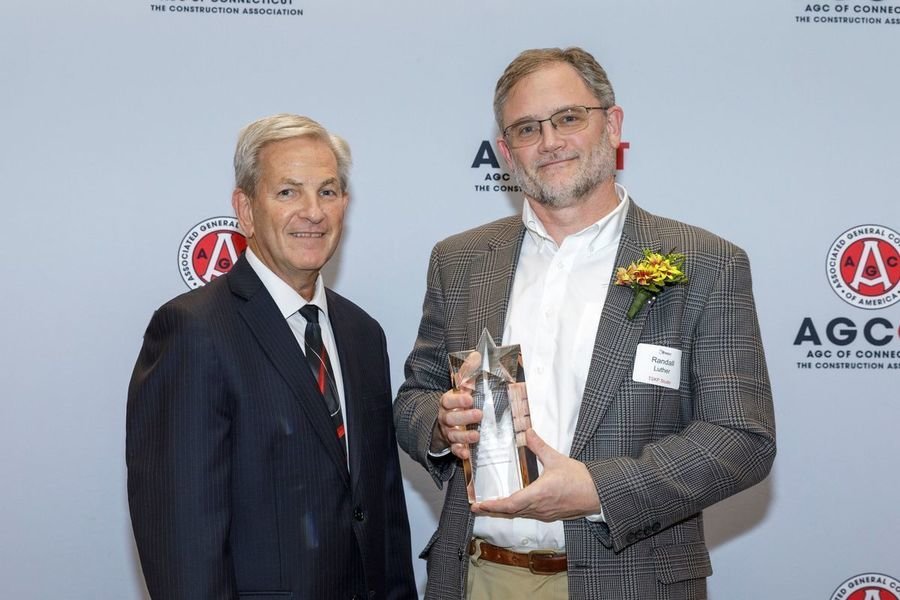 Randall (right) is joined by Aaron Mednick, Vice President of AGC CT Board
Partner of TSKP STUDIO, Randall Luther, received the Associated General Contractors of Connecticut (AGC CT) Industry Recognition Award for Designer of the Year. Nominated by industry peers, Randall demonstrates exemplary skill, responsibility, and integrity on complex new construction and renovation projects. His ability to reinvent a space was showcased at the renovated Buckley Elementary School in Manchester, Connecticut's first Net Zero Energy public school.
"Everyone here understands the effort and passion required to do what we do," said Randall.  "You get it. That's what makes this award so meaningful."
With over 28 years with TSKP STUDIO, Randall has designed three Net Zero Energy renovations.  Notable projects also include an adaptively reused the historic 1916 boiler and 1926 Cheney mill buildings, creating a unified 5th and 6th-grade academy, Higgins Hall at Western Connecticut State University, a renovation project that rejuvenated the school's main downtown campus and improved circulation, and the innovative Beman Middle School located on the site of the existing occupied school.
Randall earned degrees from Syracuse University in both architecture and mathematics. He is licensed in Connecticut, Massachusetts, Rhode Island, and New Hampshire. Randall is also dedicated to youth development programs and has been a youth basketball coach for 20 years. Randall currently serves on the University of Hartford's Architecture Advisory Board.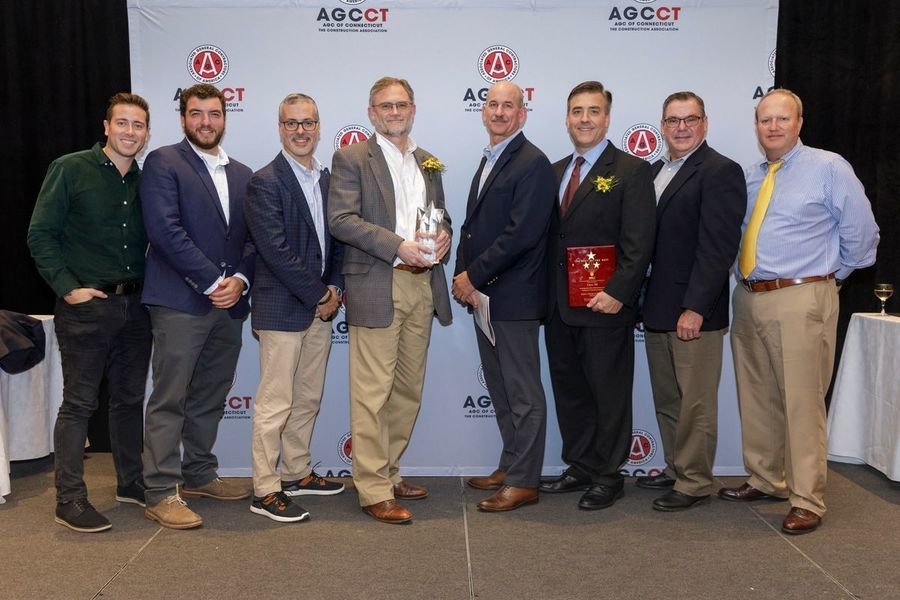 Also honored were long-time project collaborators from O&G Industries for Safety Professional of the Year, Project Manager of the Year, and Superintendent of the Year, and Christopher Till, Facilities Project Manager for the Town of Manchester, a finalist for Project Owner of the Year.
Congratulations to all of the award winners. 
Public Owner of the Year: Matthew Montana, Town of South Windsor
Private Owner of the Year: Lisa Mose, Stamford Health
Designer of the Year: Randall Luther, TSKP Studio
GC/Construction Manager of the Year: John Turner, Bond
Subcontractor of the Year: Rachele Mele, Metropolitan Interactive
Supplier/Service Provider of the Year: Steve Susanin, Alliant Insurance Services, Inc.
Project Manager of the Year: John Ruggiero, Bartlett Brainard Eacott, Inc.
Construction Supervisor of the Year: Norm Gunderson, Bartlett Brainard Eacott, Inc.
Safety Professional of the Year: Tim Barberet, O&G Industries, Inc.
To learn more about AGC CT, click here.