June 02, 2020
Connecticut Library Association's Annual Conference Goes Virtual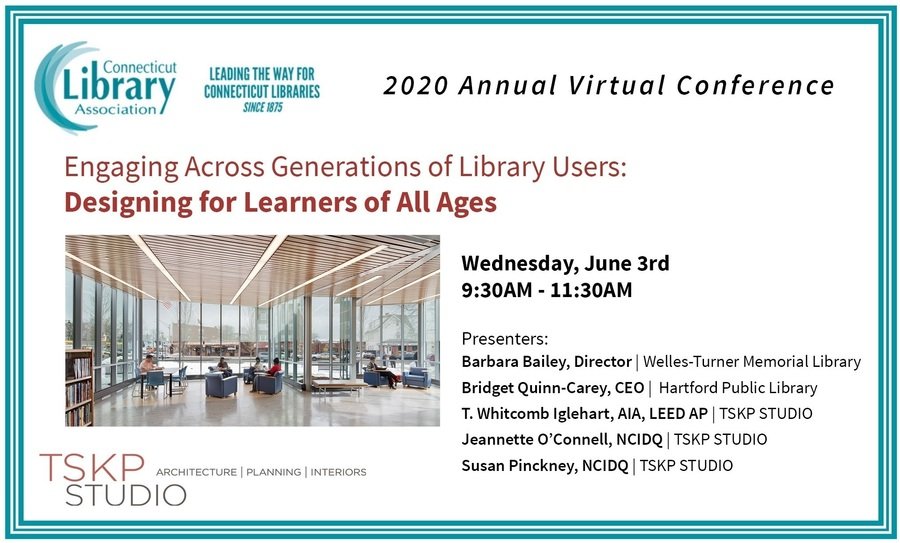 Barbara Bailey, Director of Welles-Turner Memorial Library in Glastonbury and Bridget Quinn-Carey, Chief Executive Office of Hartford Public Library will be joined by TSKP STUDIO's Kara Gruss, Whit Iglehart, Jeannette O'Connell and Susan Pinckney to present:
"Engaging Across Generations of Library Users: Designing for Learners of all Ages."
The presentation will take place on Day 5:June 3rd 9:30AM - 11:30AM. The Connecticut Library Association is holding their first annual virtual conference. Registration is free to members. For more information please visit: https://ctlibraryassociation.org/2020_CLA_Virtual_Conference
SUMMARY: From spaces designed for play-based learning of Birth-to-5 and their caregivers; to reading, study, and after-school spaces for elementary/pre-teens; to technology-rich study and Makerspaces for teens, public and school library programs and spaces must continually adapt to best serve and engage each successive generation of learner. This includes college-age and adult spaces for individual and group study, as well. Given funding limitations, expansive additions often not feasible, existing spaces must be re-imagined. We will discuss opportunities to reclaim space, programmatic needs, challenges, and approaches for each age group, with case studies from urban (Hartford) to suburban (Glastonbury).